TSA now over N7trn — AGF, Idris
..As FG saves N4bn monthly on MDAs' bank accounts
ABUJA—The Federal Government has recorded over N7 trillion in the Treasury Single Account, TSA, towards the end of March 2017, Accountant-General of the Federation, AGF, Mr Ahmed Idris, has said.
Idris, who disclosed this in Abuja, yesterday, also said the amount represented monies belonging to Ministries, Departments and Agencies, MDAs, put in portal in such a way that government could view the entire balance as one.
He said: "When we say we have over N5 trillion in TSA, it does not mean free funds for spending. These monies belong to ministries, departments and agencies put in a portal in such a way that you can view the entire balance as one.
"The movement is now over N7 trillion. People should not be thinking of why is government borrowing to fund budget. These are budgeted monies for MDAs for projects and developments."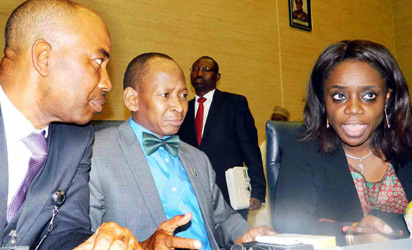 He said the Federal Government, through the implementation of the TSA, had saved additional N4 billion monthly which could have been held by banks, noting that a total collapse of government activities would have occurred, but for TSA.
"But let me also make a strong and important point. If not because TSA is in place and now that the recession is here, only God knows what would have happened. A monthly drain of over N4 billion and yet no revenue coming in and leakages continued.
"It could have been a disaster. It was government's foresightedness and focus even as TSA was in place before the recession. That is why we are floating and not sinking, and we will not sink God willing."
"For instance, why would one university have over one hundred and twenty bank accounts, and some of them even hidden and missing and carrying huge balances. We also discovered that there are costs associated with keeping these multiple bank accounts. Every month the government incurs over N4 billion in maintaining these accounts!   Yet Government is borrowing its own money. And to stop government from borrowing its money and for the fact that there was no commensurate returns on such monies, it was double tragedy! This is like a sword with two sides that can cut from any of the sides. Sanity was brought with the introduction of TSA."
Speaking on the transparency in the disbursement of federation account monthly, the AGF noted that transparency and openness are key to the present administration, adding that It is a desire to institute discipline, good governance and trust. The government cannot be trusted if it says one thing and does another.
"The meager revenue that has been accruing is being judiciously used and there is fiscal discipline in management of public resources. Let me give you an example in the previous administration. There was a time state government kicked against savings. Now because what they know and being practiced by government of the day, they have decided to imbibe the culture of savings".
"What am I trying to say?   We have excess Petroleum Profit Tax (PPT).   These are excess taxes from petroleum tax. When we get money over and above budgeted figure, the excess is always being saved. If it were before, state governments and other stakeholders would say it should e shared. And this is what has been giving us buffer, especially at this time of recession".
"Despite the lean resources, we take from it and augment accordingly. And this is being done transparently. All the stakeholders are aware of balances at any point in time. Whatever revenue comes in is shown at National Economic Council meetings including all the governors who will be briefed by the Minister of Finance. They have seen the openness and have accepted what government has put in place and the economic team. This is why we are achieving remarkable success amidst recession", he said.
On staff welfare Mr Idris   said   "the welfare of the staff of the Office of the Accountant General of the Federation is one of my cardinal objectives since I assume office. It is even a core objective I must say as managers of the treasury. Welfare as you may know promotes the best out of the staff apart from making them serve the system very well.   There are different types of welfare for the staff of the OAGF. Some border on entitlements, training to enhance the capabilities of the staff. We have also done very well in the provision of brand new staff buses we sourced from public spirited organizations including banks."
"On the part of the Federal Treasury Academy, we have done very well in building hostel facilities, renovation of infrastructure and provision of generators, furniture for the classrooms and the auditorium and the provision of sporting facilities among others.   Right now, there is an ongoing discussion with some real estate developers to build four hundred one bed-room and two-bedroom houses at our land situated at Federal Treasury Academy Orozo, Abuja".
According to him, "these developments are targeted at lower cadre officers. All these are some of the initiatives we have put in place. We pay the first 28 days to staff on first come first serve basis and each month we set aside the sum of N5 million towards that.   Any staff that   gets admission to tertiary institutions on part-time basis and would not disrupt his or her job schedule is allowed. So far we have given approval to such staff almost one thousand, most especially Nasarawa state University and University of Abuja."
"We train them and also promote them, we maintain facilities here at the headquarters, we maintain and buy new furniture, apart from making the office environment conducive for work.   This is part of motivation, this is part of welfare.
The post TSA now over N7trn — AGF, Idris appeared first on Vanguard News.